---
100% No-risk money back guarantee
 Ships from the USA
 Multiple Shipping Hubs
 30 Day Returns
 Secure Payment
Description
POWERFUL DECONTAMINATING CLEANER
Improve washing efficiency without damage. Our antibacterial Wash Warrior™ tablets are easy to use, more powerful than any other cleaner, and quickly destroy any odor and disease-causing residues. Thanks to its triple active oxygen decontamination complex, Wash Warrior™ rapidly penetrates and disintegrates all dirt while suppressing 99% of bacteria in your washing machine.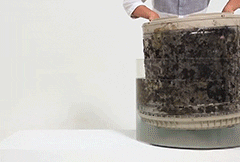 HIGHLY EFFECTIVE ANTIBACTERIAL
Our Wash Warrior™ Washing Machine Cleaner kills more than 99.9% of bacteria and other pathogens in less than 20 minutes. Our pods have a dilution ratio of 1:100, which means you can use one pod per washing machine. This will allow you to effectively clear the lingering dirt and chlorine. We recommend using one pod every 2-3 weeks to keep your machine safe and clean. The pods have a shelf life of 2 years from the production date.


POWERFUL DEEP CLEANING – These tablets are smaller and thinner than regular tablets, allowing them to powerfully penetrate, dissolve, and break down blocked up mold and residue.
KILLS BACTERIA – Our patented Washing Warrior™ Washing Machine Cleaner kills 99.9% of bacteria and other pathogens in less than 20 minutes. With a 1:100 product to water dilution ratio, it effectively cleans and purifies, keeping your washing machine cleaner and fresher.
FOR ALL WASHERS –  Safe to use with Front Load Washing Machines and Top Load Washing Machines - High Efficiency (HE) and Conventional Washers. Septic tank safe. 

CONVENIENT USE – Empty your washer, place 1 tablet and set the "clean washer" or "rinse+spin" cycle and wipe away any residues. No need to disassemble the washing machine. You can quickly get a clean washer and enjoy bacteria-free laundry.
ECO-FRIENDLY & SAFE FOR CLOTHES – Your fabrics will never be harmed. Our formula protects the integrity of your clothing and makes sure every load truly comes out fresh and clean.


DIRECTIONS:

Put one Wash Warrior™ tablet into the empty washing machine.
Turn on the washing machine and allow rotation for 15-20 minutes, switch it off and allow to settle. (For optimal results, let the water sit in washer for 30-60 minutes).
Switch the washer back on and finish out the cycle.

Repeat once every 2-3 weeks.
Payment & Security
Your payment information is processed securely. We do not store credit card details nor have access to your credit card information.
Orders are shipped within 1-2 days from the time the order is placed. Shipping time is around 6-8 business days and varies based on region.

If you wish to receive your order faster, you may upgrade shipping for additional cost.
We offer a 100% lifetime warranty on all orders that covers any defects after the original purchase date from our website or authorized dealers.

Basically, if the products are/become defective in any way shape or form we will replace your product for free or offer you a full refund no questions asked. Proof of purchase is required for all warranty claims and service requests, so please keep your receipt.

If you've purchased from our site, the order number will suffice; otherwise if you purchased via another authorized seller or retail location, you will need to contact them directly as they handle their own warranty claims, returns and exchanges.