---
100% No-risk money back guarantee
 Ships from the USA
 Multiple Shipping Hubs
 30 Day Returns
 Secure Payment
Description
YOU RIP IT - WE REPLACE IT FOR FREE!
THE ONLY GROCERY BAG YOU'LL EVER NEED!
Grocery shopping is a lot of fun, but not all those plastic bags that come with it. Imagine if you had a grocery bag that you can reuse over and over again without having to worry about recycling/storing plastic bags?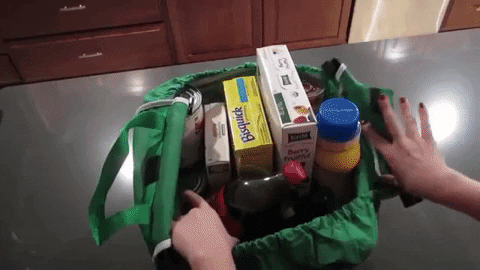 One that comes with various compartments for organizing your items and that you can simply fold and store when not in use. Ladies and gents, we bring you just that! This ultimate everyday grocery bag is all you ever need to make that trip to the store as easy as it can be.

Dimensions: 10 x 24 x 12 inches
Material: 100% nylon
Capacity: 40 lb
FEATURES
CAN CARRY IT ALL - can hold perishables, cans, frozen foods, dairy or any other grocery item without spillage.
INSULATED - safely transport hot and cold food items.
STURDY - this eco-friendly reusable grocery bag expands to hold up to 40 lbs of groceries.
MULTI-PURPOSE - these bags can even double as extra storage in your kitchen.
CLIP-ON-CART DESIGN - the bag can easily be clipped to your shopping carts so you can easily organize your items as you shop
VELCRO CLOSURE - secures your items in place. No more having to dive into your trunk picking up groceries.
OUTER POCKETS - this grocery bag also comes with outer pockets where you can put your phone and wallets in for easy access whilst shopping.
EASY STORAGE - simply fold and store in your drawer, closet, trunk or even in your purse when not in use.
MACHINE WASHABLE - just throw it in the washing machine and it's good as new.

Payment & Security
Your payment information is processed securely. We do not store credit card details nor have access to your credit card information.
Orders are shipped within 1-2 days from the time the order is placed. Shipping time is around 6-8 business days and varies based on region.

If you wish to receive your order faster, you may upgrade shipping for additional cost.
We offer a 100% lifetime warranty on all orders that covers any defects after the original purchase date from our website or authorized dealers.

Basically, if the products are/become defective in any way shape or form we will replace your product for free or offer you a full refund no questions asked. Proof of purchase is required for all warranty claims and service requests, so please keep your receipt.

If you've purchased from our site, the order number will suffice; otherwise if you purchased via another authorized seller or retail location, you will need to contact them directly as they handle their own warranty claims, returns and exchanges.